PAVE: How can you get more out of your assets?
9th May 2017
by Geeta Thakorlal
The oil and gas industry is witnessing a downturn like no other since 2014. The predicted 'lower for longer' scenario has turned into the 'lower forever' future. The new reality is that returns have been slashed on the owners' and suppliers side. Finding simpler and sustainable cost-effective ways to execute projects and deliver returns is critical for the survival of the companies serving the oil & gas industry.
Now more than ever oil and gas operators are asking, how do we get more from our existing assets? Should we be taking a closer look at using brownfields and existing infrastructure to get new developments over the line?
In a CAPEX constrained environment, it is essential for operators to maximise the return on investment from existing assets and infrastructure. Getting more with less investment is business critical. In part, this can be achieved through a well-planned asset management project coupled with a thorough understanding of the constraints and challenges imposed by brownfield activities.
'Paving the Way'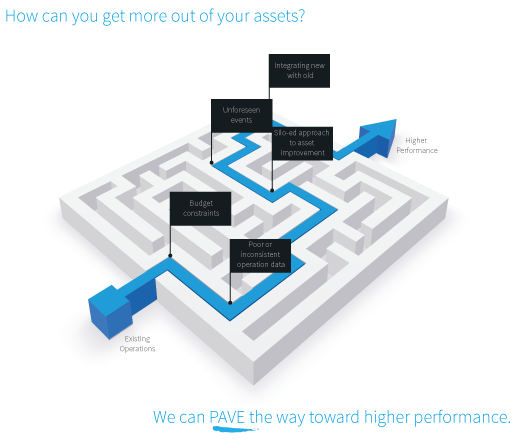 Asset Management involves the balancing of costs, opportunities and risks against the desired performance of assets, to achieve the organisational objectives. However, operator organisational structure can sometimes lead to "silo" based asset management leading to lack of joined-up thinking. This more often than not leads to sub-optimal asset value and operational efficiency outcomes.
Our Production Value Asset Enhancement (PAVE) model is a holistic 'full system' approach to asset management. It is a system wide, reservoir to market, and integrated organizational approach to asset value enhancement. It is a structured, systematic, step-wise, proven approach to asset and organizational value enhancement concept specifically designed to help our clients with realizing maximum value from their existing assets.
We work with our clients to examine the need for, and performance of, assets and asset systems at different levels. PAVE, enables the application of analytical approaches towards managing an asset over the different stages of its life cycle, which can start with the conception of the need for the asset, through to its disposal, and includes the managing of any potential post disposal liabilities.
More specifically PAVE is a three phased approach to Asset Management which entails:
Project Framing - Stepping back and framing the issues, which may be driven by safety, production, opex, resources, etc,
Detailed Evaluation - Carrying out the detailed work to ensure issues are addressed and actions plans are developed. Issues may be related to any one of these areas:

Production Optimisation;
Digital Data Management;
Asset Integrity; and
Decommissioning.

Implementation - Helping manage change culture and implementation on site.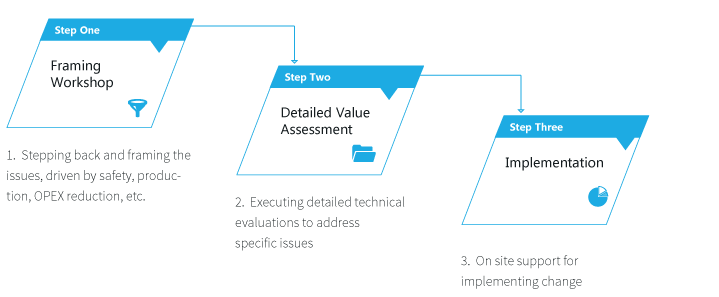 Conclusion
The core benefits of PAVE are that all opportunities for asset value enhancement including maximizing production, optimized asset integrity and organizational efficiency can all be identified and addressed in a fully integrated manner, resulting in a more cost effective and value enhancing way forward in the 'lower forever' operating environment.