Marine micropiles in ice/iceberg environments
25th January 2016
INTECSEA, working with Lockheed Martin and UTEC Geomarine, proposes a JIP focused on marine micropile technology with potential applications for conventional and ice/iceberg environments.
A collaborative working group of INTECSEA, Lockheed Martin & UTEC Geomarine, provides further details of the marine micropile technology with potential applications for small pool/long tieback applications in conventional and ice/iceberg environments. (Note: Lockheed Martin provided brief information on this subject during the 2015 ITF showcase plenary sessions)

The instability of seabed pipelines is a major cost driver in offshore projects, and mitigation measures are expensive and often unreliable. Pipelines are often "anchored" by being covered with gravel. For anchoring of subsea structures and floating structures, conventional large-diameter mono-piles, gravity bases, drag embedment anchors, clump anchors, and steel spread foundations passively secured by large driven piles are employed. Marine micropiles provide a low cost solution and a highly scalable approach to both pipeline stabilization and anchoring of subsea and floating structures, as well as a broad range of other marine applications:
Anchors for floating structures
Pipeline and riser hold-back anchors
Pipeline secondary stabilization
Subsea structure foundations
Offshore loading systems
Seismic loading
Emergency well head response
Concept
A group of one or more subsea micropiles, each with diameters around 100mm, are drilled into the seafloor from a seabed drilling rig and then grouted in place through a template, displayed below. The micropiles are designed to resist applied loads by bearing, uplift, and lateral reaction. The number of micropiles per group depends on the design loading.
The micropiles consist of threaded hollow rods drilled into the seafloor at an adjustable angle and at variable lengths depending on the seafloor material and the required axial and lateral foundation fixation holding capacity. The micropiles may be pre-tensioned immediately following installation as a means of testing their capacity and significantly enhancing the lateral resistance of the foundation fixation assembly.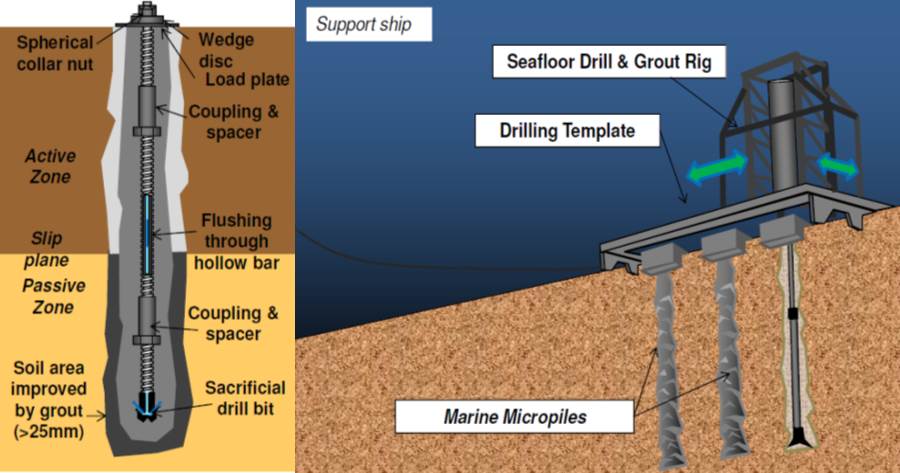 Figure 1: Marine Micropile Schematic and Subsea Template
Benefits
The primary cost benefits of marine micropiles over traditional solutions are as follows:
Ability to operate micropile drilling equipment and install Micropiles in higher sea states from smaller, lower cost vessels
Number of vessels equipped to install micropiles is greater due to decreased size requirements of the vessel, thus promoting competitive pricing and schedule flexibility
Easier, and less costly, transport, handling, and storage of micropiles, given their smaller size, compared to traditional piles.
Specifically in Arctic and harsh environments, marine micropiles provide a more cost effective solution, and can be an enabling technology for some developments, providing:
A reliable technology with reduced risk of pile refusal
For future field expansion capabilities with additional slots in the subsea micropile drilling template/foundation; this is an opportunity for initial field start-up where the construction season is short, with further expansion in later seasons
An increased range of ice class vessels available for construction, due to the reduced minimum vessel size requirements, thereby extending the construction season.
Proposal
The collaborative group is assembling a JIP with the aim to qualify marine micropile technology for pipeline and anchor applications to allow it to be ready for offshore field trials, providing a more cost effective solution for a wide range of applications, at a time when the industry is in desperate need of innovative approaches.
For more information on this JIP, please contact us at technology@intecsea.com.